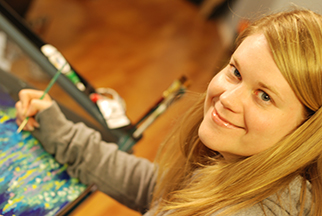 I am a graphic designer and illustrator in the Central Florida area, who is passionate about art, photography, travel, conservation and all things Disney. I love creating art and sharing it with others to bring joy to the special moments in their lives. God has blessed me with the gift of creativity to share His love with the world.

Originally from Texas, I moved to Florida 15 years ago and finished school at the University of Central Florida with a B.F.A. in Graphic Design. I have been a freelance designer and photographer for 6 years and am currently the Senior Designer for the UCF Housing & Residence Life marketing team. I also serve as Secretary for the board of AIGA Orlando in my free time.

Please check out my work on social media and contact me if you want to collaborate!
Fun Facts:  I also have a degree in Biology.
                     My dogs are my children.
                     I still watch cartoons and I'm not ashamed.